A sponsored 8km family triathlon for all ages and abilities, raising money for services run by the
South Oxford Family Room
. In 2019 we raised over £8000. Help us reach our target of £10,000 in 2021!
Latest information
We're almost at £8000! Help us to get there by sponsoring Marie Tidball, who kicked off our fundraising drive by swimming an amazing 8km (240 pool lengths!) on Thu 2nd Sept, 3 days before the Family Triathlon. She's trying to raise £1 for each metre swum. Sponsor her at https://uk.virginmoneygiving.com/MarieTidball2
Quotes from previous years
We had so much fun yesterday morning, and my 7-year-old Ella is thrilled to have completed the whole thing!

Helen Johnson
Thank you to you and the team for organising such a wonderful event. It was our first time participating and we all loved it

Lisa Seddon
We really enjoyed the friendly and relaxed atmosphere and the marshals were uniformly brilliant

Andy Humphries
Thanks so much for such a well organised, and kind and inclusive event: it was a lovely thing to do with my teenage son

Fran Townend
My 3 year old completed two laps of the running (shouting "this is really fun!") and all four laps of the cycling on her own bike. She was SO proud of herself

Juliet Rayment
What a perfect morning...thanks to everyone for a great event

Antonella Surdi
About the event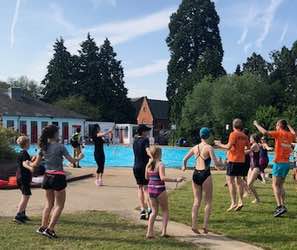 The event is intended to be inclusive rather than very competitive, so is not timed, and there are no awards for speed. Children of all ages participate: last year we had grandparents participating alongside children aged from 3-16.
The total distance covered is 8 kilometres: 6 lengths of the Hinksey Pool (200m), 3 running laps of Dean's Ham field (1.8 km), and 4 cycling laps of Grandpont Nature Park (6 km). Participants who do not wish to complete the whole course can cover shorter distances (e.g. fewer laps or lengths of the pool), and accomplish the triathlon relay-style with their family group: this allows even small children to take part.
The 2021 event started in Hinksey Pool at 10am. Participants drop off their bikes with marshals at Grandpont Nursery School beforehand, and make their way to the pool where the start times are staggered over about an hour (personalised times allocated beforehand). We expect participants to finish roughly an hour later at the South Oxford Adventure Playground. Feel free to look at our leaflet and also an online digital map of the course.
More details
For further details, the 2021 participant pack should give you some idea of how it all works, but please don't hesitate to email us, or come and find out more either at the Family Room or from the main event organiser, Yan Wong (159 Marlborough Road). We also have a detailed event plan should you need it.
Our standard risk assessment, and our road signs map are also available for download.
The Family Triathlon for 2021 has finished, but you can still sponsor someone, or you can simply donate to us directly on our Virgin Money Giving page.
Take Part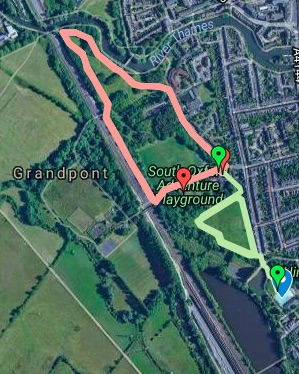 Sorry, the 2021 family triathlon event has already happened. Thanks to all the participants who made it such a success. Don't forget to sponsor someone if you haven't done so yet. See you next year!
All members of the family can take part in this great event†. Just complete these two steps:
1. Complete an entry form
The entry fee is £10 for individuals, £20 for a whole family. To enrol, simply download and fill out this form and return it by Mon 30th August 2021 either
by filling out the form electronically and emailing it to contact@sofr.org.uk
by printing out a paper copy and returning it by hand to Karen Wilson at the South Oxford Family Room, Grandpont Nursery School and Childcare (open 9-4 Mon, Tue, Fri, paper copies also available to collect)
You can pay your entry fee online from our Virgin Money Giving page when you set up a fundraising page, or in person by dropping the fee into the Family Room or to the organiser, Yan Wong, at 159 Marlborough Road.
The entry fee helps cover our costs, but if you collect enough sponsorship, you can simply ask us to waive the fee for you.
To start collecting sponsorship
Collect sponsorship online by going to our Virgin Money Giving page. Click Start fundraising on that page to start to set up a page to collect donations from friends and family; when setting up your page, you can answer No to the question Have any of your selected charities contributed to the cost of your event?.
And/or print out our sponsorship form and get your friends and family to pledge support
Useful info & resources
† You can tackle the course as a team, which means not everyone in your family need complete all the course. Children or other participants who can't, for example, swim a length of the pool, can still take part by running short sections, and very small children can travel on the back of bikes.
The cause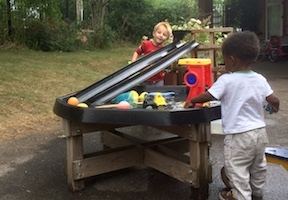 The South Oxford Family Room at Grandpont is a community-led project set up in order to continue providing universal services to families as a result of the closure of our local Children's Centre. We run stay and play activities for parents and young children, and act as a food bank location. We have been open running outdoor activities over much of the the Coronavirus pandemic, opening up our community services as soon as we have been allowed. Do come and visit, meet parents and socialise, and tell your friends about us, or follow us on our facebook page.
Supported by
Huge thanks to the following organisations who have generously supported the Family Triathlon both financially and in-kind. Please email us if you would like to add your name to this list