Quotes from 2018
We had so much fun yesterday morning, and my 7-year-old Ella is thrilled to have completed the whole thing!

Helen Johnson
We really enjoyed the friendly and relaxed atmosphere and the marshals were uniformly brilliant.

Andy Humphries
What a perfect morning...thanks to everyone for a great event

Antonella Surdi
What a great event! So well organised and so much fun!

Sophie Carrier
Just wish to congratulate and thank you for the family triathlon: great event, great organisation

Matteo Richiardi
So well done for a brilliantly organised and well executed triathlon today. Our team all loved it!

Margaret Savory
About the event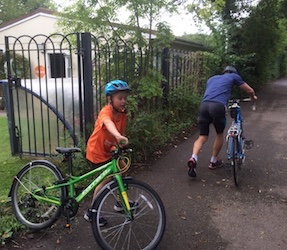 The event is intended to be inclusive rather than very competitive, so is not timed, and there are no awards for speed. Children of all ages can participate: in our pilot event last year we had families and children from toddlers upwards.
The total distance covered is 8 kilometres: 6 lengths of the Hinksey Pool (200m), 3 running laps of Dean's Ham field (1.8 km), and 4 cycling laps of Grandpont Nature Park (6 km). Participants who do not wish to complete the whole course can cover shorter distances (e.g. fewer laps or lengths of the pool), and accomplish the triathlon relay-style with their family group: this allows even small children to take part.
Last year, the event started in Hinksey Pool at 9am on Sunday 30th June. Participants drop off their bikes with marshals at Grandpont Nursery School beforehand, and make their way to the pool for a staggered start from 9am onwards (exact times are allocated beforehand). There are multiple swimming lanes so that families can start off at the same time. We expect all participants to finish by roughly 11.30am (noon at the latest) at the South Oxford Adventure Playground. More detailed information can be found in our leaflet and you can also look at an online digital map of the course.
new!

Push 2K event

In 2019, for the first time this year, we are trialling a sponsored pushchair walk simultaneously with the triathlon. This enables families with babies or those with restricted mobility to participate. The 2 kilometer walk will take place on grassy surfaces around the Grandpont Recreation ground, next to the family triathlon cycle course. All participants will set off at 10.30 and we expect people to take between half an hour and an hour to complete it, finishing at the same location as the triathlon.
Contact
For further details, please don't hesitate to email us, or come and find out more either at the Family Room or from the main event organiser, Yan Wong (159 Marlborough Road).
We also have detailed risk assessments for the triathon and Push2K, an event plan (including planning for emergencies), and a road signs map should you wish to examine them.
If you know an adult or child doing the family triathlon, you can help them raise money for the Family Room by pledging your support. Either fill in the sponsorship form that they have printed out, or see if they have set up an online page where you can donate. Alternatively you can simply donate to us directly on our Virgin Money Giving page.
If you are looking for other ways to help, we are already on the lookout for marshals and other helpers for next year!
If you wish to come and support, please do. The running and cycling parts of the course are publicly accessible, and we will be allocating wrist bands for supporters so that they can come into the pool both before and after the event.
Take Part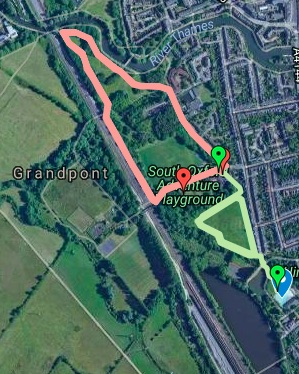 Sorry, the 2019 family triathlon event has already happened. Thanks to all the participants who made it such a success. See you next year!
All members of the family can take part in this great event
†
. Just complete these two steps:
1. Complete an entry form
The entry fee is £10 for individuals, £20 for a whole family. To enrol, please download and fill out this form (or this one for the Push2k) and return it by 21st June 2019 either
by hand to Karen Wilson at the South Oxford Family Room, Grandpont Nursery School and Childcare (open 9-4 Mon, Tue, Fri) or
by email to contact@sofr.org.uk (you can pay your entry fee online from our Virgin Money Giving page when you set up a fundraising page, or in person by dropping the fee into the Family Room or to the organiser, Yan Wong, at 159 Marlborough Road).
Paper copies of the forms are also available at the Family Room
new! T-shirts: this year we are aiming to produce some fantastic T-shirts with the our logo - make you child proud to have completed a triathlon! Just put the required sizes in the box on the entry form, or email us to sort out your required size. We are aiming to keep costs low, just £6 for an adult or £5 for a kid's top.
The entry fee helps cover our costs, but if you collect enough sponsorship, you can simply ask us to waive the fee for you!
To start collecting sponsorship
Print out our sponsorship form and get your friends and family to pledge support
and/or
Collect sponsorship online by going to our Virgin Money Giving page. Click Start fundraising to start to set up a page to collect donations from friends and family; when setting up your page, you can answer No to the question Have any of your selected charities contributed to the cost of your event?.
Useful info & resources
† You can tackle the course as a team, which means not everyone in your family need complete all the course. Children or other participants who can't, for example, swim a length of the pool, can still take part by running short sections, and very small children can travel on the back of bikes. Alternatively, you could enrol for our Push2K sponsored pushchair walk instead.
The cause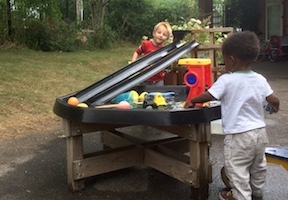 The South Oxford Family Room at Grandpont is a community-led project set up in order to continue providing universal services to families as a result of the closure of our local Children's Centre. One of the principle services we provide is professional support and help with infant feeding for new parents: a session that runs all Tuesday morning. This provides vital post natal support in the community for a large number of families from all over Oxford, and is attended by over 250 families per year from a range of different backgrounds. At the same time we also run a free health visitor drop-in session and older siblings can take advantage of our stay-and-play activities.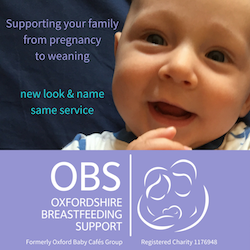 The service is provided in conjunction with experts from Oxfordshire Breastfeeding Support, and to run this service together costs over £200 per session, or over £10,000 per year. As part of the transition to community-run children's services, Oxfordshire County Council provided some of this funding for the first year of operation only: now we are faced with raising enough money to continue providing this important service.
Supported by
Huge thanks to the following organisations who have generously supported the Family Triathlon both financially and in-kind. Please email us if you would like to add your name to this list